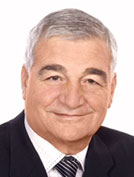 Aqua Pure Depot, a reflection of its founder
It is in 2001 that Rocco La Villa has founded Aqua Pure Depot, now renowned to be one of the largest distributors of water treatment products in Canada. Previously working at Bell Canada for over 30 years, he has made his introduction to the water treatment industry as a warehouse manager for American company Erie (now known as Aquion). With his foray into this industry, Rocco La Villa discovered a passion for water treatment and a challenge to match his aspirations, one of creating his own business.
Everything starts with a dream
In August 2001, he takes over the Canadian distribution network of equipment manufacturer Erie. The adventure could begin! Rocco La Villa's ambitions would bring him to diversify all of his products offered to retailers by providing a wider range of brands and models that would enable them to find everything in just one place. Thanks to the close ties he has developed with his customers, but also to his desire to stay updated with the industry's latest innovations, business owners could constantly renew the diversity of their products while ensuring to meet their customer's needs.
A passion that is passed on
The founder's exceptional qualities have made Aqua Pure Depot a leading company in the field of water equipment distribution in Canada. Rocco La Villa has transmitted his values, knowledge and passion to all of his business members. A compassionate man as well as a man of his words, honesty and respect towards his clients, suppliers and employees is the perfect description of Rocco La Villa's philosophy. « Treat others the way you would want to be treated » is a proverb which he believed in and inspired him throughout his life.
Even after Rocco La Villa passed away in April 2015, Aqua Pure Depot continues to thrive and to be a successful company, while remaining, in the image of its founder. Involved in the company since 2003, Nino La Villa, continues his father's dream; along with his family and the whole team at Aqua Pure Depot. It is with a great sense of accomplishment and pride that Rocco La Villa deceased, knowing that he has bequeathed his big project to an experienced team that is involved in the company's development and leads to new heights.
A history dating back to the 1960s …
Since the early 2000s, the company can rely on the employees' expertise and commitment to providing the best service possible, from taking orders to shipping. It also relies on a network of customers and suppliers that have been devoted, since the 1960s when it was originally Erie, and have chosen to continue their business relationship with Aqua Pure Depot. Mainly present in Quebec, Ontario, in the Maritime Provinces and eastern United States, Aqua Pure Depot offers an exceptional range of high quality products from Canada, US and Taiwan, which several are offered exclusively.
A leader in its industry
A mission to offer retailers the widest range of quality products at the lowest possible cost and the fastest delivery time available, Aqua Pure Depot purchases the majority of its products directly from manufacturers. By maintaining a wide range of products always in stock, it ensures meeting customers' needs in the shortest delay possible.
Aqua Pure Depot is born from Rocco La Villa's dream; he firmly believed that success lies in strong and lasting relationships that one develops with their customers, suppliers and employees. In his vision, Aqua Pure Depot was to become a pillar in the distribution of water treatment products. And it is in this way that the whole Aqua Pure Depot team will work relentlessly.